September 3rd, 2009 Update
French consulate torched as Bongo wins Gabon vote
Yahoo- LIBREVILLE (AFP) – Opposition supporters went on the rampage across oil-rich Gabon Thursday, torching a French consulate and attacking a prison, after the son of the country's late leader was declared winner of a bitter presidential election .
Disturbances were reported in several districts of the capital Libreville as officials said Ali Bongo had won the contest to succeed his father, Omar Bongo Ondimba, with around 42 percent of the vote.
In some neighbourhoods, crowds of young men chanted "Death to the Whites" as Paris told around 10,000 French nationals not to leave their homes amid rumours the former colonial power had conspired to fix the result.
The shells of burnt-out cars littered highways around the capital while demonstrators had set fire to piles of tyres and erected makeshift barricades with upturned rubbish bins.
The French consulate was set ablaze in the second city of, while several hundred supporters of long-time opposition leader Pierre Mamboundou, attacked the city's prison and freed inmates.
"Measures are in place to ensure the security of French citizens … It is recommended to French people to stay at home," international development minister Alain Joyandet told AFP in Paris.
He said that around 80 French soldiers — out of 1,000 stationed at France's permanent base in the country — had been "called out" in Port-Gentil following the attack on the consulate and on French companies Total and Schlumberger.
Violence also erupted in Nkembo, east of the capital. "People are breaking anything that they can, they have smashed stores. It is a mess," said resident Benjamin Ngouan.
After several delays, the electoral commission finally announced on Thursday that Ali Bongo, a former defence minister, had won the contest to become president of the African nation, succeeding his father who ruled for 41 years until his death in June.
Ali Bongo was declared the winner with 141,952 (41.73 percent) of votes cast in last Sunday's election, putting him clearly ahead of his nearest rival Andre Mba Obame, a former interior minister, who won 88,028 (25.88 percent) votes….
"As far as I am concerned, I am and I will always be the president of all the people of Gabon… I am and I will always be at the service of all, without exclusion,"
he said at his campaign headquarters in Libreville. However Mba Obame's camp promptly rejected the outcome.source
—
Article, July 29th 2009
Ali Bongo of Gabon, USA, UK, France And The Treasure
NewsRescue– MediaTakeout tabloid has revealed pictures of gold bars reportedly shot in the home of Ali Bongo Ondimba, the son of late president and long time dictator of Gabon, El Hadj Omar Bongo, the ruler from 1967-2009 who passed in June 2009.
Ali Bongo who used to occupy the role of Minister of National Defense and Minister of Foreign Affairs under his fathers Government is campaigning for presidency in the upcoming democratic election in Gabon. He is married to an American, Inge Bongo.
Gabon was regarded in 1980 as Africa's luckiest nation, with it's oil boom. Late President Omar started a flurry of construction and importation. Oil price fluctuations and mismanagement soon got Gabon tempted and manipulated into the wicked trap of the World Bank and IMF… joining other African nations taking foreign loans. It soon fell deep in the pit of international debt and IMF constrictions, and by 1996 with oil production decreasing by two thirds, Gabon's luck lost its lure.
Related: How The IMF-World Bank and Structural Adjustment Program(SAP) Destroyed Africa
Treasure: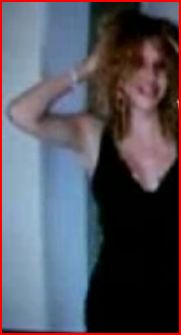 Gabon is a very wealthy nation in central Africa, with the highest Human development index in sub Saharan Africa. It's small population, just 1.5 million and abundance of natural resource easily gives it such status.
In 2007, according to CliqueAfrique magazine, there was rage in Gabon due to the featuring of the daughter-in-law of the Gabonese President, Inge Bongo celebrity house shopping on US TV :
In a recent edition of the reality program "Really Rich Real Estate" shown on the American Music Channel VH1, Inge Bongo daughter-in-law of the Gabonese President is featured shopping for a $25 million mansion in one of America's most exclusive neighborhoods Malibu.

Inge Bongo is married to Ali Ben Bongo, the Gabonese Minister of Interior and Defense and President Bongo's son and heir apparent in the oil rich Gabon.

Late President Omar Bongo with GW Bush

Concern has been raised as to how 48 year old Ali Ben Bongo and his wife are able to afford a $25 million mansion. Concerns that are fueled by the catalog of corruption allegations that have been leveled against the Bongo family over the 40 years Omar Bongo has been in power.

In 2005, an investigation by the United States Senate Committee into fundraising irregularities by lobbyist Jack Abramoff revealed that Abramoff had offered to arrange a meeting between U.S. President George W. Bush and Bongo for the sum of 9 million USD. Though it is unproven as to whether or not the exchange took place, Bush met with Bongo 10 months later in the Oval Office.

In 2003 in France's biggest corporate sleaze trial in which several former executives of the oil Giant Elf were jailed payments totaling $16.7 million were alleged to have been made to Omar Bongo in exchange for Elf being given preference over British and US oil firms. [View on BBC]
French interests have been decisive in determining leadership in Gabon since Independence;
Wikipedia- French logging interests poured funds into the successful election campaign of M'ba, an 'evolué' from the coastal region. After M'ba's accession to power, the press was suppressed, political demonstrations banned, freedom of expression curtailed, other political parties gradually excluded from power and the Constitution changed along French lines to vest power in the Presidency, a post that M'ba assumed himself. However, when M'ba dissolved the National Assembly in January 1964 to institute one-party rule, an army coup sought to oust him from power and restore parliamentary democracy.
The extent to which M'ba's dictatorial regime was synonymous with "French Interests" then became blatantly apparent when French paratroopers flew in within 24 hours to restore M'ba to power. After a few days of fighting, the coup was over and the opposition imprisoned, despite widespread protests and riots. The French government was unperturbed by international condemnation of the intervention; and paratroops still remain in the Camp de Gaulle on the outskirts of Gabon's capital. When M'Ba died in 1967, Bongo replaced him as president, and continued to be the head of state until his death in 2009, winning each contested election with a substantial majority.
Related: France's 40 year ongoing genocide of Central Africa