By Henry Umoru
ABUJA- PRESIDENT Muhammadu Buhari has written to the Senate, asking for the approval of an External loan of $5.5 billion to enable the Federal government finance the 2017 budget.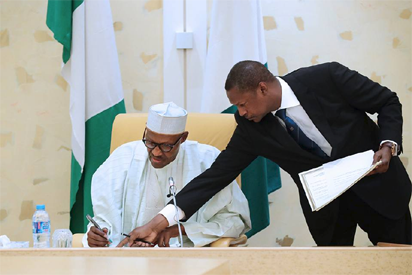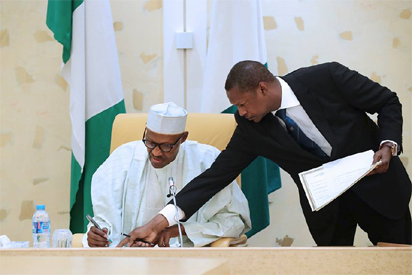 President Buhari's request for external borrowing to the tune of $5.5 billion is contained in a letter to the Senate President, Senator Bukola Saraki which was read on the floor of the Senate yesterday.
The four- page letter which was addressed to Senate President, Bukola Saraki is entitled, " Request for the approval of External Loans for: 1. Implementation of the External Borrowing Approved in the 2017 Appropriation Act: 11 External Borrowing to Re- finance maturing domestic debts through the issuance of USD3.00 Billion Eurobond in the International Capital Market or through a loan syndication."
According to the letter, while $3 billion would be sourced through Euro bond, the remaining $2.5 would come from other sources in the international capital market.
President Buhari however allayed fears of Nigerians on possible effect or problems hat may come up, saying that the proposed external borrowing of USD3.0 billion re-finance maturing Domestic Debt would not lead to an increase in the public debt portfolio against the backdrop that the debt already exists, already in the form of high interest short term Domestic Debt.
According to him, the substitution of Domestic Debt with relatively cheaper and long-term external debt will lead to a significant decrease in Debt Service Cost, just as he said that government's moves in re-financing of Domestic Debt through External Debt would also achieve more stability in the Debt Stock, adding that it would create more borrowing space in the domestic market for the private sector.
https://www.vanguardngr.com/2017/10/buhari-writes-senate-borrow-5-bn-finance-2017-budget/