June 19th, 2012
Last time it came by Rolls-Royce and ship. This time it had two seats on flight BA2012 and was accompanied by royalty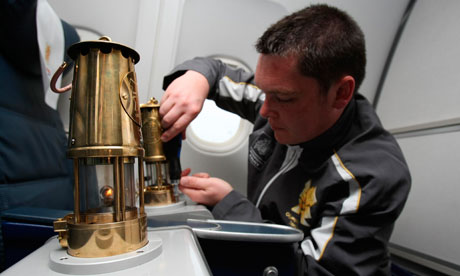 The Olympic flame – in four specially designed lanterns – is secured into two seats on the flight from Greece by Inspector Andy Marriner of the Metropolitan police.

London 2012 Olympic Games ambassador David Beckham carries the Olympic torch after its arrival at the Culdrose airbase

Eight years after Sebastian Coe and his team set out to win the Games for London, the Olympic flame has touched down in Britain. This was, London mayor Boris Johnson proclaimed, the first time a naked flame had been permitted on a British Airways flight since smoking was banned on planes.
And there it sat, lit by the rays of the sun at ancient Olympia a week earlier but now occupying two seats in the front row of the passenger cabin of a gold-painted Airbus A319.
It was contained in four specially made golden lanterns, each 15 inches high, during the four-hour flight from Athens's Eleftherios Venizelos airport' itself built for the 2004 Olympics' to the Royal Navy's airbase at Culdrose, near Penzance.
The arrival of flight BA2012 in Cornwall preceded the start of the 70-day torch relay around Britain, which will end on 27 July when the flame is used to ignite the cauldron in the Olympic Stadium in London.
Its in-flight attendants included footballer David Beckham, Olympics organiser Lord Coe, Hugh Robertson, the Olympics minister, Johnson and the occupant of the seat nearest to the flame: Princess Anne, president of the British Olympic Association.
On landing it was met by Nick Clegg, the deputy prime minister, before being used by Beckham to light a ceremonial cauldron, from which a torch would be lit and placed in the hands of Ben Ainslie, the triple gold-medal winning sailor who was chosen to be the first of 8,000 torchbearers.
Beckham, a member of the 2012 team since its inception, joined Coe on a visit to an Athenian primary school on Friday morning and made it clear that he would relish being a torchbearer during the London leg of the relay as well as a member of Great Britain's Olympic football team.
"I've never performed at an Olympic Games," he said. "But to be part of this is something very special. We've got some very special people carrying the torch, and it's going to be a proud moment for them. If I was to be one of those carrying in London, it would be very special for me."
Cynics like to remind us that the torch relay was invented for "Hitler's Games" in 1936, but torch relays played a part in the ancient Olympics, sent out through Greek towns and villages to advertise the Games.
And in the modern era, the Olympic flame was re-introduced in 1928 by the peace-loving people of Amsterdam, eight years before the Berlin organisers dreamed up the idea of reconnecting Aryan supremacists with their supposed ancestors.
No one had thought to turn a flame into an Olympic symbol when London first held the Games at White City in 1908. On the second occasion, 40 years later, the torch arrived at Wembley stadium by a circuitous route, taken to avoid a threat of disturbances in northern Greece, still enduring the aftermath of its civil war.
Its overland journey was undertaken in a car provided by Rolls-Royce and specially geared to proceed at a stately 8mph.
Making its way from Italy via the Simplon Pass to Lausanne, where it paused to pay tribute at the grave of Baron Pierre de Coubertin, the founder of the modern Olympics, the flame went through Luxembourg, Belgium – halting at the tomb of the unknown soldier in Brussels – and France, where it was transferred to the destroyer HMS Bicester, arriving in Dover nine days after leaving Olympia to a welcome from a crowd of 50,000.
The moment it landed on British soil, before it could be handed to the Lord Lieutenant of Kent, the flame went out. Officially, it was relit from a spare carried from Greece. Unofficially, a cigarette lighter was hastily employed.
Eventually it was carried into the stadium by John Mack, the 22-year-old president of the Cambridge University athletic club, as fine a specimen of blond, strapping manhood as could be found.
This time the designated hero figure may be Johnson but is more likely to be Steve Redgrave, the owner of gold medals from five successive Games, or perhaps an East End child of symbolic mixed ethnicity.
According to Coe, discussions on the identities of the final torchbearers have yet to begin, but Beckham is unlikely to be disappointed, just as he will almost certainly be granted his wish of a place in the football squad.
He had been mobbed by expats and Greek guests during a reception at the British ambassador's residence in Athens on Thursday night, but those suggesting that his selection for the team might be a ploy to use his celebrity to fill seats and sell shirts were being "a little bit disrespectful", the 37-year-old former England captain said.
"Managers like Sir Alex Ferguson, Fabio Capello and Sven-Göran Eriksson, they don't pick you because they want to fill stadiums. I've always wanted to be picked for what I can bring to a team."
He had been amused, he said, to hear himself announced as "Sir David Beckham" by the announcer during the handover ceremony in the Panathenaic Stadium on Thursday. "It made me laugh," he said. "It made everybody laugh, probably."
Looking ahead to the next 10 weeks, in which the flame will make its way around Britain, Coe was sanguine about the threat of the sort of disruption created by pro-Tibet demonstrators when the Beijing torch visited London in 2008.
"We live in a country where peaceful protest is very much a part of what we are," he said before leaving Athens. "Thank goodness it is, in a way, as long as that doesn't slop over into becoming a public order issue or endangering people who are enjoying their day."
It had been instructive, he said, to watch the test event for the torch relay, which took place in Leicestershire last month.
"It started at seven o'clock in the morning in Leicester and ended at five or six o'clock in the evening in Peterborough and went through little villages and small towns. In Melton Mowbray they were four or five deep on the pavement, and that was just a test event with a cardboard torch and no actual flame.
"I don't sense that there's a widespread feeling that this is to be anything other than cherished. My gut instinct is that people will be quite protective."