October 22, 2009
(CNN) — Organized crime gangs are exploiting a new target for illegal profit: Medicare and Medicaid.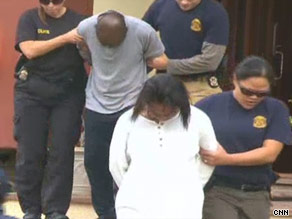 Federal agents arrest two suspects last week in Los Angeles on charges of Medicare fraud.
Experienced in running drug, prostitution and gambling rings, crime groups of various ethnicities and nationalities are learning it's safer and potentially more profitable to file fraudulent claims with the federal Medicare program and state-run Medicaid plans.
"They're hitting us and hitting us hard," said Timothy Menke, head of investigations for the Office of Inspector General at the Department of Health and Human Services. "Organized crime involvement in health care fraud is widespread."
One hot spot for health care fraud is Los Angeles, California, where Russian, Armenian and Nigerian gangs have been caught by federal agents.
Related: NewsRescue- Dozens arrested in Medicare fraud bust; a couple, of Nigerian origin
Recent cases include crime boss Konstantin Grigoryan, a former Soviet army colonel who pleaded guilty to taking $20 million from Medicare. Karapet "Doc" Khacheryan, boss of a Eurasian crime gang, was recently convicted with five lieutenants of stealing doctor identities in a $2 million scam.
Two Nigerians, Christopher Iruke and his wife, Connie Ikpoh, were charged October 15 with bilking Medicare of $6 million dollars by fraudulently billing the government for electric wheelchairs and other expensive medical equipment.
The two, allegedly members of an organized crime ring, entered pleas of not guilty and are being held in a federal detention center. "They deny any allegations of wrongdoing," said their attorney, James Kosnett.
Defrauding government-run health care programs involves stealing two types of identities: those of doctors, who bill for services, and patients, whose beneficiary numbers entitle them to medical care and necessary equipment. Criminals are expert at collecting both.
"That information is very, very valuable to these crooks. And the doctor may work at one clinic but he won't know about the second and third clinic that they've already set up using his identification," said Glenn Ferry, special agent in charge of the Los Angeles region for the Health and Human Services Office of Inspector General. "They are definitely well-organized, well-schooled on how to commit Medicare fraud."
Dr. Gianfranco Burdi had his identity stolen when he was recruited to join what appeared to be a new medical practice near Koreatown in Los Angeles. After the managers failed to show a business license and proof of malpractice insurance, Burdi pulled out. Two years later, the FBI came calling. Agents questioned Burdi, a psychiatrist, about whether he had prescribed $800,000 worth of electric wheelchairs for Medicare patients.
"I said no. I am a psychiatrist. Why would I prescribe an electric wheelchair?" said Burdi. "It was shocking."
A jury found Leonard Uchenna Nwafor guilty of using Burdi's identification to bill Medicare for medically unnecessary durable medical equipment.
"I was naive enough to provide them my medical license, my other data," said Burdi.
Patient beneficiary numbers are easy to buy along Los Angeles' Skid Row. Impoverished residents of shelters there tell CNN they've accepted cash from recruiters — known as "cappers" — to go to bogus medical clinics where they share what they call their "red, white and blue" — the tri-colored Medicare card that has a beneficiary number for billing the government.
"People down here need to eat. Somebody who comes up on a quick hustle, quick money, they going to jump on. I'm one of them, I will," said a man who identified himself as Scott. "They're just defrauding the patients, defrauding the government."
[ad#medium]
Jimmy Rodgers of San Bernadino, California, tells CNN he went to a clinic three times a week, receiving $100 per visit but little medical care.
"This is just like Carte Blanche," said Rodgers, holding his Medicare card. "Matter of fact, better than Carte Blanche. Carte Blanche has limitations on it."
The clinics, he concedes, were clearly fronts for collecting beneficiary data. "They were no doctors. They were just somebody who had their hand out," said Rodgers, who later cooperated with federal investigators. "And they just ripping the system off and using me as a means to rip the system off."
Once criminals have doctor and patient identification numbers, they begin filing false claims. The Khacheryan gang told Medicare that health services were being provided on the 10th floor at 754 South Los Angeles Street. But there is no doctor's office in that decrepit industrial building — only a mail drop, where the Khacheryan group collected checks from the U.S. government for hundreds of thousands of dollars.
The inspector general's office of the Department of Health and Human Services estimates it is on track to recover about $4 billion this year by breaking up health care fraud schemes perpetrated by all types of criminals, from organized rings to corrupt doctors.
That amount, though, is only about 5 percent of the annual health care fraud cost in the United States, according to the National Health Care Anti-Fraud Association. Because government health programs operate on the honor system, law enforcement officials say it's easy for organized crime rings and average criminals to cash in at the taxpayer's expense.  source
See: NewsRescue-Nigerian lawmakers describe taking naked blood oaths to office
NewsRescue- 18 year old girl beheaded for rituals in Imo, Nigeria