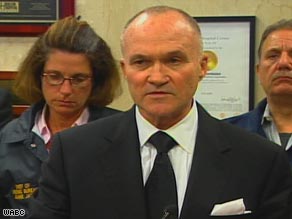 The trigger eager NYPD has again unleashed horror, killing one of their own, an African American officer- Omar Edwards, who had just finished his shift and was in plainclothes when he saw someone who had smashed his car window and was trying to rob his car, and drew his gun as he pursued the robber.
A sergeant and two plainclothes officers in an unmarked police car seeing the pursuit made a U-turn to follow the men. One of the officers jumped out of the car and fired six times with a 9mm Glock, hitting Officer Edwards twice, once in the chest and once in the arm. He died about an hour after the shooting at the Harlem Hospital Center.
Commissioner Kelly said Officer Edwards did not fire his weapon. It was unclear whether the officers identified themselves. The name of the officer who fired the shots has not been released, but Commissioner Kelly said he had worked at the New York Police Department for four and a half years.
"While we don't know all the details of what happened tonight, this is a tragedy," Mayor Michael Bloomberg said at a news conference from the hospital. "Rest assured that we will find out exactly what happened here, and we will learn from it so it doesn't happen again."

Commissioner Kelly said Officer Edwards was a two-year veteran of the NYPD and worked in the housing bureau. He was recently married and had two young children.

It's the first time a New York Police Department officer has been killed by a colleague since early 2006, when Alfredo Toro shot Eric Hernandez at a Bronx fast food restaurant after a dazed and beaten Officer Hernandez refused orders to drop his weapon. Police said Officer Toro had no way of knowing Officer Hernandez was a fellow officer.[1]
We may recollect that the NYPD was not too long ago at the top of the news for the '50 shot', murder of African American Sean Bell, and African American groom on his wedding eve. This latest shooting is likely to raise questions about departmental procedures involving communications among plainclothes officers particularly those in different units, trigger eagerness as well as issues of race.