October 31st, 2012
NewsRescue– Law and order they say, only exists in a state of sane minds and sane societies. It usually takes just a tiny trigger, a little chaos, to release the beasts locked up in people. This is being observed once more in South New York and New Jersey in the wake of the paralysis and destruction caused by hurricane Sandy.
More serious and unthinkable crimes are being reported in New Jersey, which is largely in darkness with great distribution of damage and destruction. Hopefully the Obama administration will deploy adequate Federal security services to provide some level of protection for the people, from the people.
Here's a description of some events from huffingtonpost:
Water that had risen six feet high hadn't completely drained away from the streets of Coney Island in Brooklyn, N.Y., yet looters had already rifled through the remains of vulnerable shops on Mermaid Avenue.
At about 8 a.m. on Tuesday, workers arrived at Mega Aid Pharmacy to find that not only had Hurricane Sandy obliterated the building's interior the night before, but thieves had broken in and gone through more than 10,000 pharmaceutical items. Most of the stolen goods were prescription meds.
"The water went away and these people started walking down the streets and just robbed stores," a frustrated worker at the pharmacy, who wished to remain anonymous, told HuffPost Crime.
He and the pharmacy's manager, 27-year-old Stan Gutkin, looked at their shop in disbelief that afternoon as workers carried out salvageable supplies.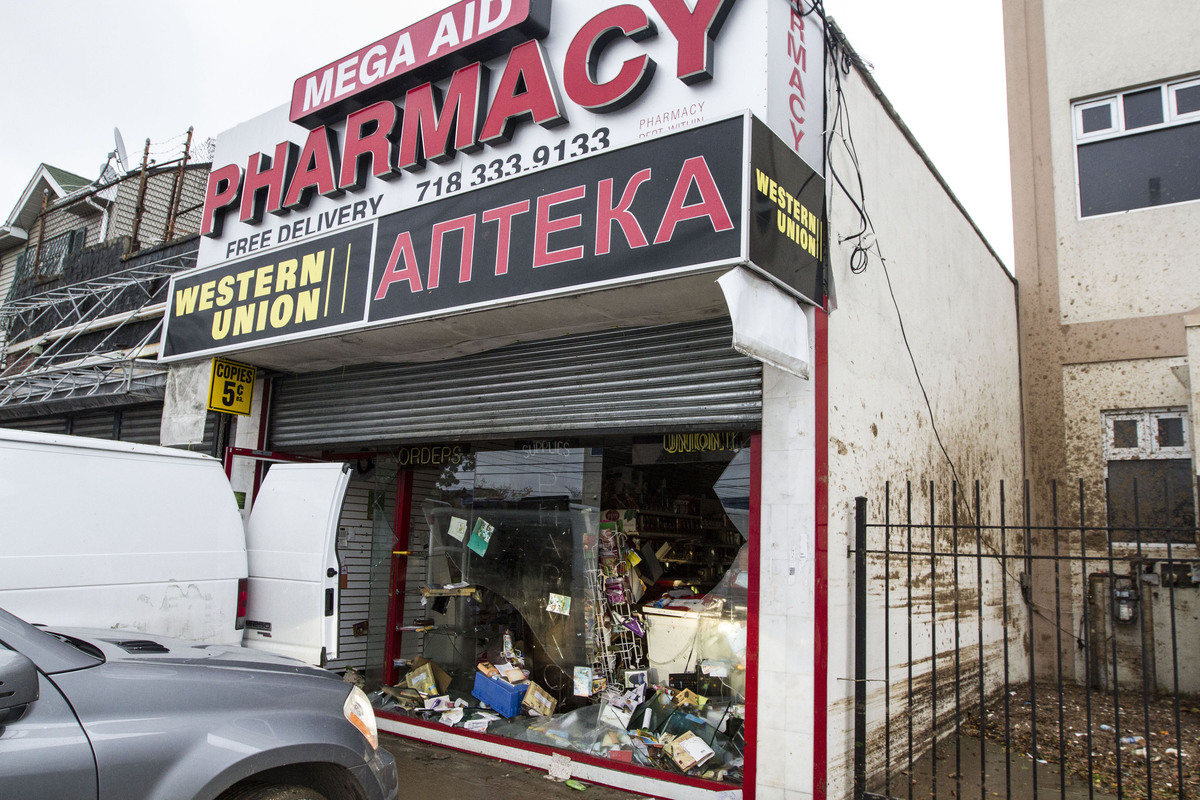 "I don't even know what it's going to take until we're operational," Gutkin said. "This breaks the business. I don't even know where to start."
Their story was just one of many on Mermaid Avenue, one of only a few streets in Coney Island on Tuesday teeming with people — and officers. Locals said that the police presence in the neighborhood came after looters stole from banks, pharmacies and other shops with valuables.
It's a crime that can almost be expected after a disaster. As Hurricane Irene pummeled the Atlantic Coast last year, looting was so prevalent that truTV put together a security footage slideshow of the crime. Shortly after Hurricane Katrina, New Orleans was plagued with looting and violent attacks, The New York Times reported.
Solid numbers aren't yet available for New York City crimes connected to the superstorm. The 60th Precinct, which covers Coney Island, was evacuated and subsequently flooded on Monday night. Though several officers couldn't say definitively whether there had been reports of looting or other crimes in the area, many were quick to tell onlookers to go home.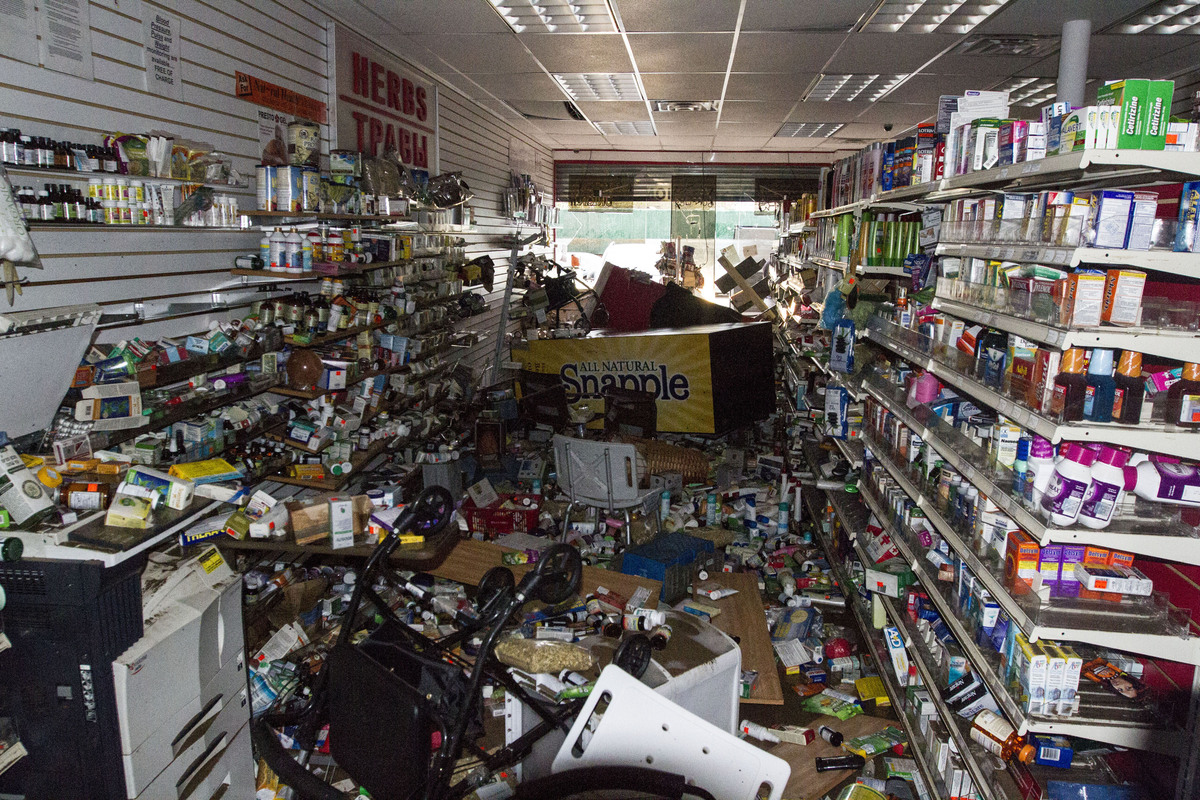 "It's getting dark, and it's real dangerous out here — that's why there's a cop on every block," one NYPD officer told HuffPost Crime. "You could get your stuff stolen."
Nearby, at a city housing project called Ocean Towers, a fight broke out in front of reporters and cops. Two women threw haymakers at one another as residents — all still without power — stared and yelled from their windows. Other people threw unidentified objects from their windows at officers, who swarmed in to break up the fistfight.
Dena Wells, 39, a resident of Ocean Towers, had had enough after watching the melee.
"People are turning on each other — they're attacking each other," she said, shaking her head. "Even when there's no disaster, this building is disastrous. But after the hurricane, it just got crazy.
"We have to get out of here."
Gas lines
Not a usual sigh in the United states, gas lines and related frustration have been noticed in the New York area. Many gas stations are out of power or damaged and unable to provide commuters gas. This has led to chaotic ques at the gas stations still providing this essential commodity.
Trailer loads of generators have also been offloading quickly at departmental and wholesale stores. Homedepot had record lines of customers waiting to buy generator sets, as the power outage remains widespread.
Now, here's more on the looting. Just when you thought you had seen it all:
'Sandy Loot Crew' plans more heists & violence tonight
Paul Joseph Watson
Prison Planet.com
October 31, 2012
Looters who are taking advantage of the devastation caused by Hurricane Sandy are posting photographs of their stolen goods on Twitter and bragging about how they plan to carry out more thefts and violence.
Shocking images posted to the social networking website depict individuals who appear to be working together boasting about how they have stolen laptops, TV's, and other electronics from both stores and private homes that fell victim to the hurricane.
The gangs appear to be organizing their looting expeditions under the hashtag #SandyLootCrew. Most of the accounts have thousands of previous tweets. Some are obviously fakes being run by trolls – just as some of the threats made against Mitt Romney were fake and some real, but a number of the accounts appeared to be genuine and have substantial tweet histories.
Other Twitter users attempted to report the looters and some of their accounts were suspended. Members of the hacking group 'Anonymous' apparently also got embroiled in an effort to stop the looters.
As we first highlighted on Monday, the looting was planned on Twitter well in advance of the hurricane making landfall. News reports from numerous different areas are now flooding in confirming that widespread looting is taking place.
Twitter user Kyle Newman took screenshots of some of the tweets where he caught gang members organizing which houses they would loot ahead of the storm.
Not only are members of the gang bragging about their stolen loot, they are also openly planning violence.
A user named 'TEVON D'SEAN JACKSON' tweeted "ALRITE, GOT 20 PIPEBOMBS READY FOR TONITE.. TONITE WE B CHECKIN EMPTY HOSPITALS FOR DEY MEDICAL SHIT #SANDY #SANDYLOOTCREW."
Jackson also talked about getting a bigger boat and having already looted 20 Playstation 3′s. His original account is https://twitter.com/dutchminati – as you can see he has almost 5,000 previous tweets, confirming that the account is genuine. If the account is a fake, as some have suggested, threatening to pipe bomb hospitals still doesn't go down too well with the authorities.
He also talked about how he allowed his son to beat up old women and rob them.
Other Twitter users expressed their outrage at the looters for exploiting the victims of the hurricane.
Members of the looting gang also posted pictures of signs made by people threatening to shoot looters.
Read more tweets below from members of the 'SandyLootCrew' threatening more violence, some of it racial, as well as threats to rape women and loot more homes and businesses.
*********************
Paul Joseph Watson is the editor and writer for Infowars.com and Prison Planet.com. He is the author of Order Out Of Chaos. Watson is also a host for Infowars Nightly News.