Caleb Thomas Schwab was the son of Rep. Scott Schwab and his wife, Michele, who issued a statement Sunday night.
"Since the day he was born, he brought abundant joy to our family and all those who he came into contact with," the parents said. "As we try and mend our home with him no longer with us, we are comforted knowing he believed in his savior, Jesus, and they are forever together now. We will see him another day."
Kansas state police are investigating Caleb's death at the Schlitterbahn water park, which has been closed for the investigation, said spokeswoman Winter Prosapio.
The boy died while riding the Verrückt, the world's tallest water slide, she said. The park released no other details.
According to the park's website, the slide required two to three riders to be strapped in a raft with a total weight between 400 and 500 pounds.
The raft then "will slide down a jaw-dropping 168 foot 7 inch structure, only to be blasted back up a second massive hill and then sent down yet another gut wrenching 50 foot drop for the ultimate in water slide thrills," the website said.
Each rider was required to be at least 54 inches tall. It was not immediately known Sunday whether Caleb met the height requirement.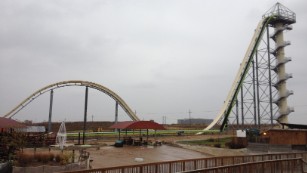 The Verrückt slide at Schlitterbahn.
Thousands of children are hurt annually on amusement rides, according to a 2013 study by the Nationwide Children's Hospital in Columbus, Ohio, which examined data from the Consumer Product Safety Commission.
Head and neck injuries were the most common at 28%, with 1.5% of the injuries requiring hospitalization, the study said.
Caleb T. Schwab (Photo: Via Schwab family), via RawStory