One presentation claims the XKeyscore program covers 'nearly everything a typical user does on the internet'
July 31, 2013
A top secret National Security Agency program allows analysts to search with no prior authorization through vast databases containing emails, online chats and the browsing histories of millions of individuals, according to documents provided by whistleblower Edward Snowden.
The NSA boasts in training materials that the program, called XKeyscore, is its "widest-reaching" system for developing intelligence from the internet.
The latest revelations will add to the intense public and congressional debate around the extent of NSA surveillance programs. They come as senior intelligence officials testify to the Senate judiciary committee on Wednesday, releasing classified documents in response to the Guardian's earlier stories on bulk collection of phone records and Fisa surveillance court oversight.
The files shed light on one of Snowden's most controversial statements, made in his first video interview published by the Guardian on June 10.
"I, sitting at my desk," said Snowden, could "wiretap anyone, from you or your accountant, to a federal judge or even the president, if I had a personal email".
US officials vehemently denied this specific claim. Mike Rogers, the Republican chairman of the House intelligence committee, said of Snowden's assertion: "He's lying. It's impossible for him to do what he was saying he could do."
But training materials for XKeyscore detail how analysts can use it and other systems to mine enormous agency databases by filling in a simple on-screen form giving only a broad justification for the search. The request is not reviewed by a court or any NSA personnel before it is processed.
XKeyscore, the documents boast, is the NSA's "widest reaching" system developing intelligence from computer networks – what the agency calls Digital Network Intelligence (DNI). One presentation claims the program covers "nearly everything a typical user does on the internet", including the content of emails, websites visited and searches, as well as their metadata.
Analysts can also use XKeyscore and other NSA systems to obtain ongoing "real-time" interception of an individual's internet activity.
Under US law, the NSA is required to obtain an individualized Fisa warrant only if the target of their surveillance is a 'US person', though no such warrant is required for intercepting the communications of Americans with foreign targets. But XKeyscore provides the technological capability, if not the legal authority, to target even US persons for extensive electronic surveillance without a warrant provided that some identifying information, such as their email or IP address, is known to the analyst.
One training slide illustrates the digital activity constantly being collected by XKeyscore and the analyst's ability to query the databases at any time.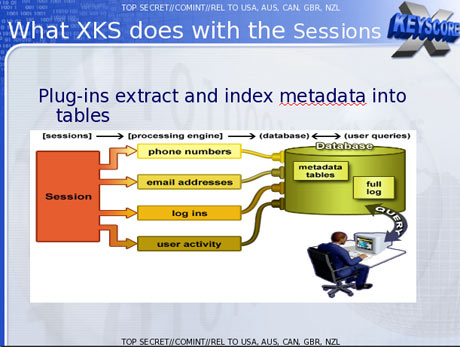 The purpose of XKeyscore is to allow analysts to search the metadata as well as the content of emails and other internet activity, such as browser history, even when there is no known email account (a "selector" in NSA parlance) associated with the individual being targeted.
Analysts can also search by name, telephone number, IP address, keywords, the language in which the internet activity was conducted or the type of browser used.
One document notes that this is because "strong selection [search by email address] itself gives us only a very limited capability" because "a large amount of time spent on the web is performing actions that are anonymous."
The NSA documents assert that by 2008, 300 terrorists had been captured using intelligence from XKeyscore.
Analysts are warned that searching the full database for content will yield too many results to sift through. Instead they are advised to use the metadata also stored in the databases to narrow down what to review.
A slide entitled "plug-ins" in a December 2012 document describes the various fields of information that can be searched. It includes "every email address seen in a session by both username and domain", "every phone number seen in a session (eg address book entries or signature block)" and user activity – "the webmail and chat activity to include username, buddylist, machine specific cookies etc".
Email monitoring
In a second Guardian interview in June, Snowden elaborated on his statement about being able to read any individual's email if he had their email address. He said the claim was based in part on the email search capabilities of XKeyscore, which Snowden says he was authorized to use while working as a Booz Allen contractor for the NSA.
One top-secret document describes how the program "searches within bodies of emails, webpages and documents", including the "To, From, CC, BCC lines" and the 'Contact Us' pages on websites".
To search for emails, an analyst using XKS enters the individual's email address into a simple online search form, along with the "justification" for the search and the time period for which the emails are sought.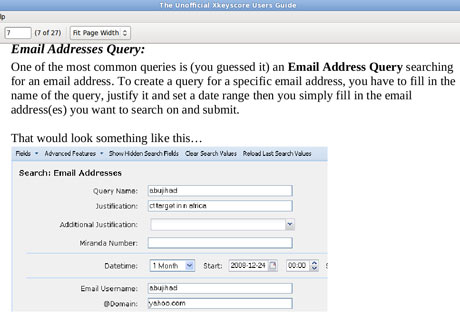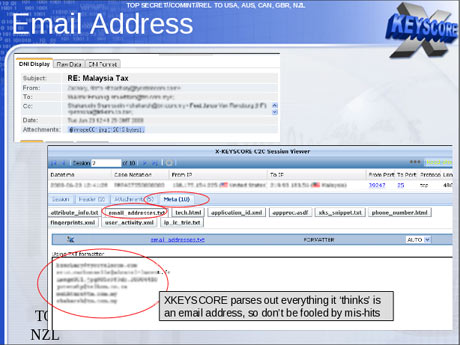 The analyst then selects which of those returned emails they want to read by opening them in NSA reading software.
The system is similar to the way in which NSA analysts generally can intercept the communications of anyone they select, including, as one NSA document put it, "communications that transit the United States and communications that terminate in the United States".
One document, a top secret 2010 guide describing the training received by NSA analysts for general surveillance under the Fisa Amendments Act of 2008, explains that analysts can begin surveillance on anyone by clicking a few simple pull-down menus designed to provide both legal and targeting justifications. Once options on the pull-down menus are selected, their target is marked for electronic surveillance and the analyst is able to review the content of their communications: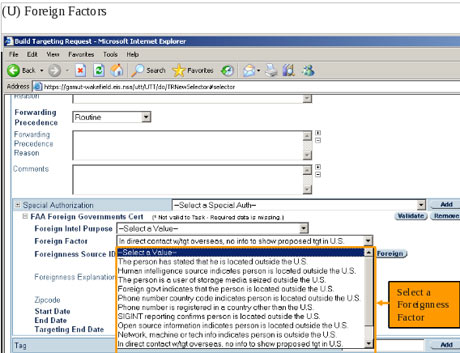 Chats, browsing history and other internet activity
Beyond emails, the XKeyscore system allows analysts to monitor a virtually unlimited array of other internet activities, including those within social media.
An NSA tool called DNI Presenter, used to read the content of stored emails, also enables an analyst using XKeyscore to read the content of Facebook chats or private messages.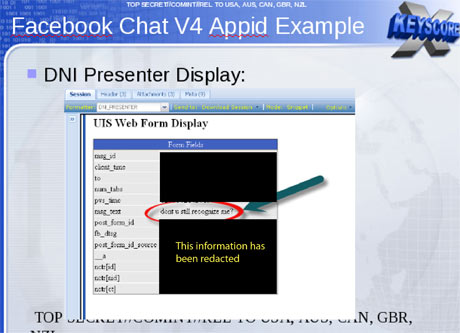 An analyst can monitor such Facebook chats by entering the Facebook user name and a date range into a simple search screen.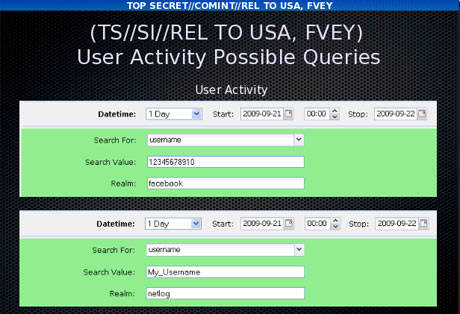 Analysts can search for internet browsing activities using a wide range of information, including search terms entered by the user or the websites viewed.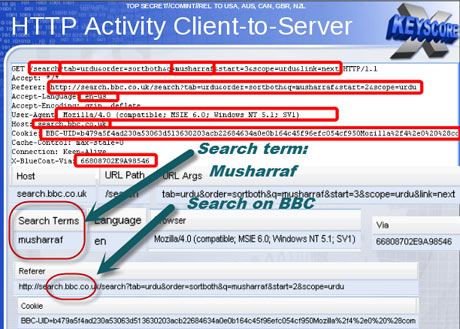 As one slide indicates, the ability to search HTTP activity by keyword permits the analyst access to what the NSA calls "nearly everything a typical user does on the internet".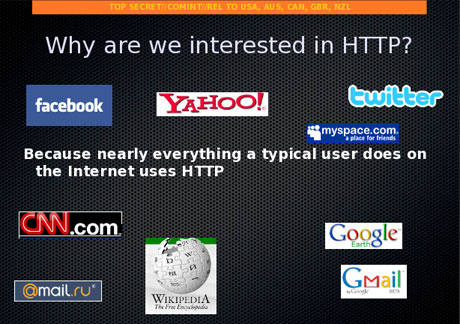 The XKeyscore program also allows an analyst to learn the IP addresses of every person who visits any website the analyst specifies.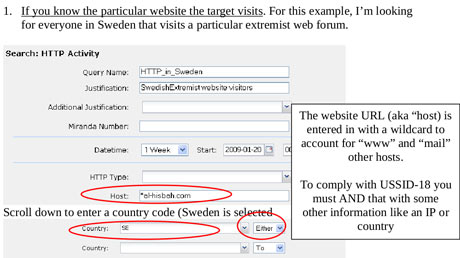 The quantity of communications accessible through programs such as XKeyscore is staggeringly large. One NSA report from 2007 estimated that there were 850bn "call events" collected and stored in the NSA databases, and close to 150bn internet records. Each day, the document says, 1-2bn records were added.
William Binney, a former NSA mathematician, said last year that the agency had "assembled on the order of 20tn transactions about US citizens with other US citizens", an estimate, he said, that "only was involving phone calls and emails". A 2010 Washington Post article reported that "every day, collection systems at the [NSA] intercept and store 1.7bn emails, phone calls and other type of communications."