Company's stock crashed 37% Wednesday on shocking subscriber loss
NewsRescue
Shares of American streaming service Netflix plunged 37% during early trading on Wednesday, marking a massive loss of $40 billion in market capitalization, after the company reported its first customer decline in more than a decade.
This happened as CNN's new streamings service got buried barely a month into kick off after gathering a meagre 250,000 subscribers.
Celebrating the life of CNN+ pic.twitter.com/n0p5KRStgi

— Donald Trump Jr. (@DonaldJTrumpJr) April 21, 2022
Netflkix said the number of subscribers in its first quarter dropped by 200,000, falling well short of its forecast of adding 2.5 million subscribers. The suspension of service in Russia over the Ukraine conflict led to the loss of 700,000 users.
The abrupt shift in fortune for the streaming platform comes after months of success during strict pandemic-related lockdowns. Netflix has lost nearly half of its value since January, when the firm warned of weak subscriber growth.
The company expects deeper losses ahead, as inflation and fierce competition contribute to a heavy decline in the number of users apart from the Russia exit. The streaming platform forecasts it would lose two million subscribers in the spring quarter.
Tucker Carlson mocks Brian Stelter for gloating over Netflix's falling stock, just as the CNN+ streaming service got shut down after less than a month.

Read more: https://t.co/RlInqI88O7 pic.twitter.com/QvwFzCr3jA

— The Post Millennial (@TPostMillennial) April 22, 2022
Netflix is reportedly contemplating offering a lower-priced version of the service with advertising to tackle lagging subscriber growth. Similar offerings from rivals HBO Max and Disney+ have proved to be a hit.
"Those who have followed Netflix know that I've been against the complexity of advertising, and a big fan of the simplicity of subscription," Netflix CEO Reed Hastings said as quoted by Reuters. "But, as much as I'm a fan of that, I'm a bigger fan of consumer choice."
The declines hit other video streaming-related stocks, with Roku dropping over 6%, Walt Disney falling 5% and Warner Bros Discovery down 3.5%.
Meanwhile CNN has been having the lowest ratings among the top three stations in the US. MSNBC is scoring double CNN's viewership while Fox news continues to dwarf all the other mainstream stations by leaps.
Death of CNN+
CNN's streaming service spent $300 million in three weeks before its parent company pulled the plug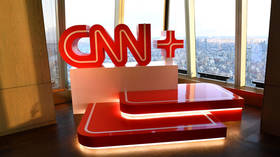 CNN+ launched on March 28, 2022 in New York City. © Noam Galai/Getty Images CNN+
CNN's parent company Warner Bros. Discovery has officially pulled the plug on the premium streaming service CNN+ after a mere three weeks. Thursday's announcement came as a "total and utter shock" to employees of the service, which has reportedly already spent $300 million to hire top corporate media talent, launch and advertise, with another $700 million in investments planned.
Variety magazine broke the story on Thursday morning, saying the decision came from Warner Bros. Discovery CEO David Zaslav. By noon, CNN executives confirmed it to the staff at their offices in a New York City high-rise, saying the service would shut down on April 30.
The announcement was met with "total and utter shock" that "morphed into despair," an anonymous staffer told CNN's Brian Stelter and Oliver Darcy. Staffers were "freaking out" at first, then "turned to sadness" before breaking out whiskey and wine "to commiserate."
Officially, Zaslav wants to unite all of the company's brands under one streaming service. CNN+ was commissioned by former WarnerMedia CEO Jason Kilar, just weeks before Discovery acquired its parent company AT&T earlier this year.
CNN had planned to sink $1 billion into the venture, hiring executives, producers and on-air talent from other networks, and planning for CNN+ to break even after four years. The service attracted as many as 150,000 subscribers in the first couple weeks, according to some reports – though others said a mere 10,000 people in on a daily basis.