Documents seen by TheCable show the involvement of  former President Olusegun Obasanjo in the controversial OPL 245 oil block deal.
In the deal finally consummated in 2011, only $210 million of the $1.3 billion paid by Shell and Eni for the block went into federal government coffers as "signature bonus".
The rest was paid to Malabu Oil and Gas, mainly owned by Dan Etete, who, as petroleum minister in 1998, had awarded the lucrative licence to himself.
The sale to Malabu was nullified by Obasanjo in 1999 and assigned to Shell — without a public bid.
Ownership was suspiciously reverted to Malabu thereafter, leading to legal action by Shell who later resorted to negotiating directly with Etete after President Goodluck Jonathan assumed office in 2010.
A year later, the $1.3 billion deal was struck, with Malabu getting $1.1 billion from Shell and Eni to its transfer ownership, while the signature bonus was paid to Nigeria.
Bello Adoke, attorney-general of the federation under Jonathan who is having a long-running battle with the Economic and Financial Crimes Commission (EFCC) over the deal, had protested the decision of the anti-graft agency to "single" him out for prosecution.
In a letter to Abubakar Malami, the current attorney-general of the federation, Adoke said at least three presidents were involved in the deal.
He said apart from the late President Umaru Musa Yar'Adua, former Presidents Olusegun Obasanjo and Goodluck Jonathan have not denied scrutinising the terms of settlement in the deal.
But Obasanjo has denied any involvement, asking anyone with evidence to come forward.
Describing it as corrupt, Obasanjo said he could not have approved a deal with Etete, a businessman who was one of the major beneficiaries of the lucrative oil block.
However, documents seen by TheCable showed agreements between Malabu and the government of Obasanjo.
In a letter dated December 2, 2006, addressed to Malabu Oil and Gas Limited and Etete, Edmund Daukoru, who served Obasanjo as minister of state for petroleum resources, conveyed an approval of Obasanjo regarding the deal.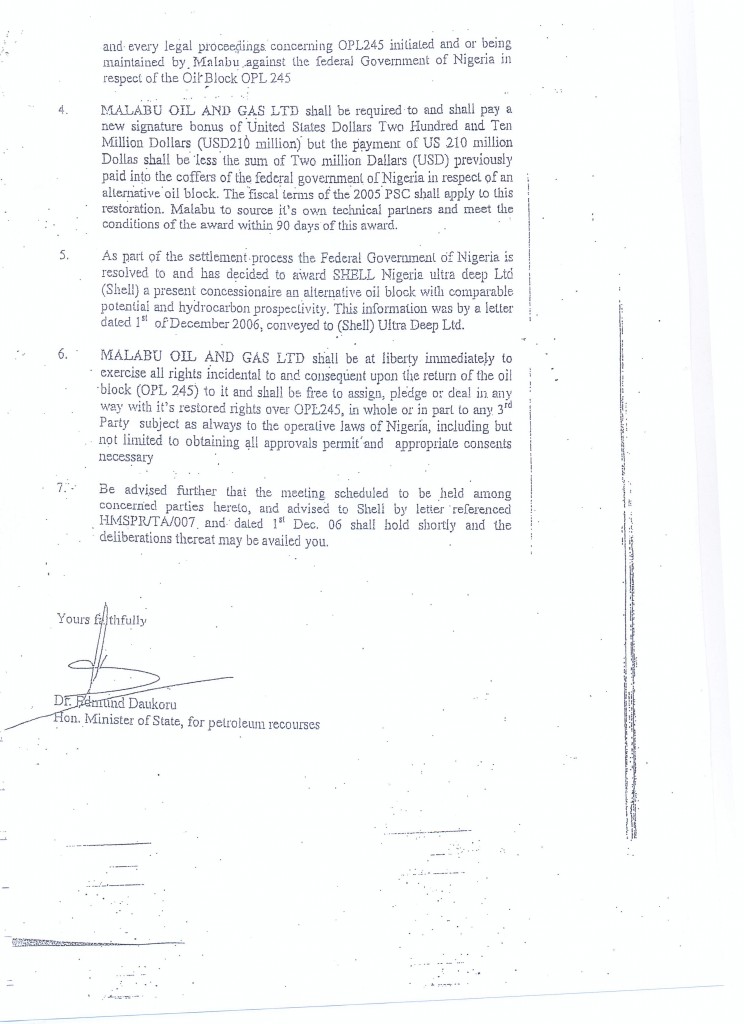 The letter titled: 'Malabu Oil and Gas Limited – out-of-court settlement in respect to OPL 245′, read: "We are delighted to convey that the president of the federal republic of Nigeria and commander-in-chief of the armed forces having concluded a review of your legal claims for the return of the oil block 245 has graciously approved and directed as follows.
"Malabu Oil and Gas Limited shall be at liberty to exercise all rights incidental to and consequent upon the return of the oil block to it and shall be free to assign, pledge or deal in any way with its restored rights in OPL 245, in whole or in part to any 3rd party subject as always to the operative laws of Nigeria including but not limited to obtaining all approvals permit and appropriate consents necessary."
Before the out-of-court settlement, a document dated November 3, 2006, revealed that Daukoru brokered a similar settlement agreement with Malabu on behalf of the federal government.
On January 26, the federal high court ordered a return of OPL 245 back to the federal government pending investigation into the deal.
This followed a motion by the EFCC.
Shell and Agip have challenged the decision and applied that it be returned to them
The court is expected to rule on the application on Friday.
Follow us on twitter @thecableng
Copyright 2017 TheCable.