An underground theCable investigation has found that the Borno state emergency management agency, SEMA is still looting scarce food for displaced persons who continue to die of malnourishment in Nigeria's Boko HAram devastated northeast.
Here are some excerpts from the report:
IS THIS A SIGN?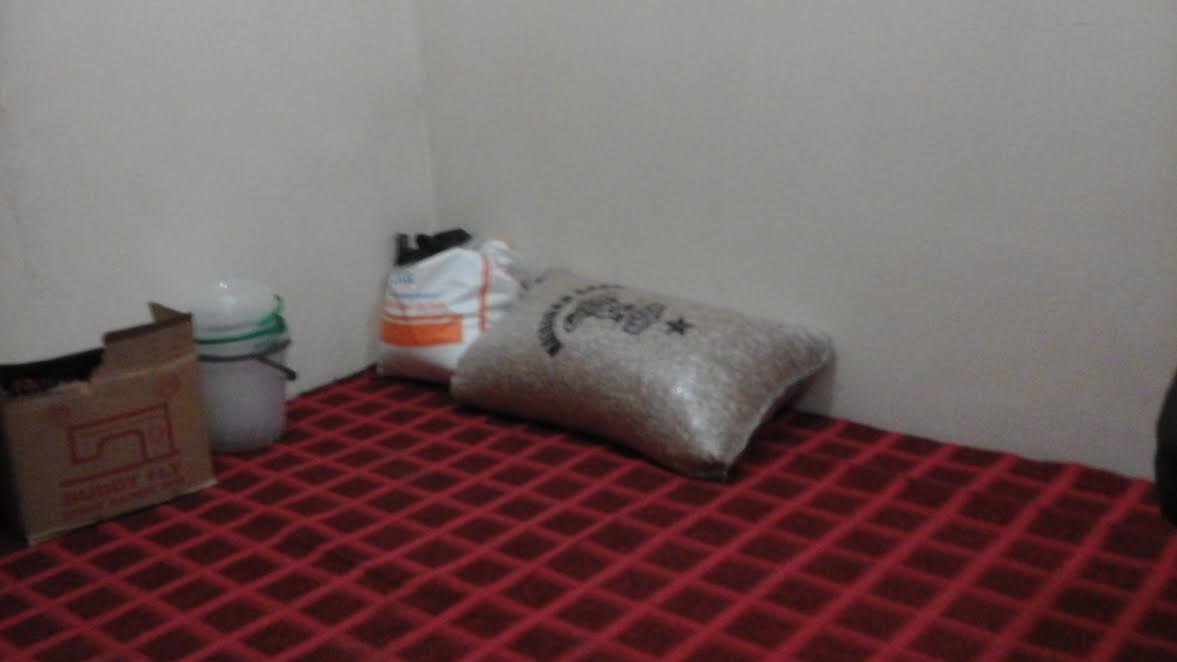 During a visit to the Women Development Centre, Post Office area, opposite General Hospital, to discuss the possibility of entering IDP camps, a bag of beans, another bag of an unidentified product and two sewing machines, were easily noticeable in an office marked 'Assistant Director'. The sight would have made no meaning but for two reasons.
One, the scheduled meeting was with a SEMA top shot. What was a bag of beans doing in the office of a man whose job directly relates to the distribution of an item like this to IDPs?
Two, it isn't once — not even twice — in 2016 that IDPs in Borno had received the donation of sewing machines from public-spirited individuals and organisations.
The source of the items was not established, but their presence surely raised suspicions.
—
'SEMA SHARES HALF AND STEALS HALF'
Bakassi IDP camp at a glance
The civilian JTF member concludes by saying SEMA has a policy of dividing into two, the foodstuff it receives from the National Emergency Management Agency (NEMA). Half of this, he claims, actually goes to the IDPs; the other half, nowhere!
"If SEMA collects 100 bags of rice from NEMA, it distributes 50 and keeps 50 in its office," he says.
"But after a while, they will tell NEMA to send more foodstuff, claiming that they had distributed all the food they got. Even after they have brought the food — thank you — no water! How do you give someone food and you don't provide water as well?"
3,000 BAGS OF SUGAR 'DIVERTED' DURING RAMADAN
That weighty allegation was corroborated by someone who once worked as a driver at the SEMA office where relief materials are stored. In fact, he says there are times whenSEMA receives aid and keeps all — not just half — of humanitarian aid to itself.
"Let me tell you, they gave SEMA about 3,000 bags of sugar during the Ramadan period. We brought it and they didn't make use of it; they just kept it till after the Ramadan period and the sugar became solid," he says.
"Then they started to break the sugar and change the sacks. Then they loaded it in the cars at night, and took it to the flour mill to sell.
"Then they brought people to come and sew the new sacks. When we all left to go home in the evening, they went back to load the trucks at night and head to the flour mill.
"It also includes groundnuts. There's one that Dangote brought, supplies for the fasting period. They called him [the SEMA chairman] and gave him but he didn't share it to the people."
The diversion of these materials, he adds, were perpetrated under the cover of darkness, usually late in the night but sometimes in the wee hours of the day.
"I saw them more than 10 times when they were moving the sugar out of the SEMA office. Most of these were very early in the morning, like 5:30am to 6am, and some were in the night," he says assuredly.
"Every month, the former SEMA chairman gave at least 300 bags of rice to each IDP camp. But now, each camp gets 50bags/month. In the night, they cart the food way and nobody knows where they move it to. Always in the night.
"There was a time that they would send wrappers, cloths from the US…. These people just held everything for themselves. They refused to give people and they were selling the clothes.
"If SEMA will ever agree to open its store, you will see many things inside, many kinds of foodstuff: beans, rice, sugar, Tuwo Shinkafa, noodles, cloth. But if you go to IDP camps, you will never find these things there."
Although he is unaware that he is talking to a journalist, he prods his listener to confront the SEMA chairman with these "facts", saying: "When you meet the chairman of SEMA, you can ask him about it."
TheCable was denied entry to the Maiduguri Flour Mill in an attempt to verify the claim that it collaborated with SEMA to divert the bags of sugar. "We don't entertain journalists here and we also don't engage in any sugar business," the gatekeeper says.
Similarly, the NEMA chairman ignored all calls and the text message to his phone number.
A TALE OF TWO SEMA CHAIRMEN
Grema. They say his time was better
Grema Terab is the immediate past chairman of Borno's SEMA. And by his own account, he is the pioneer chairman of the agency. Appointed in August 2014 at a time the humanitarian crisis was escalating and with 20 of 27 local governments under the control of Boko Haram, Terab's first task was to coordinate a statewide care for displaced persons. It is unclear how Terab's tenure panned out in terms of accountability for relief items, but it appears the people haven't forgotten him just yet — 20 months after leaving office.
In all, two members of the civilian JTF, six IDPs and a former SEMA staff rated Terab a better manager of the humanitarian crisis than Satomi Ahmed, his successor.
"The former chairman was someone who helped everyone, whether you were an IDP or not," one IDP at Bakassi camp says. "He helped everybody. But this one? He's just hoarding all the food!"
Satomi (middle). His SEMA is unpopular with IDPs
The most damning comparison came from the civilian JTF member quoted in earlier paragraphs.
"This current chairman, Satomi, sometimes he walks on the road and people scream at him, 'We don't like you! We don't like you! We need Grema! We need Grema!'"
Perhaps there were people who were unhappy with the appointment of Satomi, as he is widely known, and they were determined to see him fail. An encounter with him was his chance to invalidate all the accusations against him. But, were he to have the benefit of hindsight, he would want that encounter to go another way.
Two of us masquerading as aid donors from the south-west arrive the SEMA office on a typically scorching morning one Thursday in November, and we are told right at the gate that we have to return for a 1pm appointment.
We return just before 1pm, and once we are in, we immediately see that Satomi wields enormous powers. There is a crowd of people, mostly elderly women, waiting to see him. Alongside the few men and children in the mix, they are all sprawling on the rugged floor in the chair-less yet expansive waiting room.
After a half-hour wait, a pleasant man carrying himself around like one of Satomi's aides succeeds in helping us pin the chairman down to a corner, during one of the many moments he slid from office to office in the gigantic edifice. "Give me 10 minutes," Satomi says curtly, coldly.
Thirty minutes turn to an hour, an hour extends to two. Still we wait. On that rug, we doze off, wake up, and find out we have been waiting not for 10 minutes but for nearly three hours. We seek out this aide, and tell him it's now or never. He pleads with us to be a little more patient "for the sake of IDPs who need the kind of donation you say you want to give".
Not long after, Satomi leaves his inner office for his aide's, where we are luckily loitering, and his aide reminds him in courteous English that we are still waiting. It is unclear why Satomi is suddenly infuriated, but he scolds his aide in unprintable Hausa. When, on Satomi's exit, we ask the aide if we stand a chance of seeing his boss anytime soon, the once happy man simply scowls at us.
We are still trying to figure out our next line of action when Satomi charges out of the office — and without uttering a word — dashes past us and out of the building, enters his SUV in the company of three other aides, and drives out of the premises.
"What manner of SEMA chairman refuses to meet potential aid donors, refuses to apologise for not being able to meet them, refuses to give them another appointment, refuses to delegate one of his subordinates to meet them?" my co-'humanitarian worker' asks me.
"No idea!" I reply.
MEANWHILE, IDPS ARE SUFFERING… Read full report