June 10th, 2012
ABCNews– Creflo Dollar, the megachurch pastor who preaches a message that God wants you to prosper, today denied allegations that he beat his 15-year-old daughter and told his flock, "all is well in the Dollar household.""
Dollar faced his congregation for the first time since he was arrested at his Atlanta home Friday on misdemeanor charges of simple battery and cruelty to children. He posted a $5,000 bond and was released.
Fayette County Sheriff's Deputies arrived at his home around 1 a.m. Friday after they received a domestic violence call from the pastor's 15-year-old daughter.
The girl and her sister told deputies Dollar, 50, grabbed her by the throat and choked her, causing a scratch on her neck, when an argument over whether she could attend a party turned physical.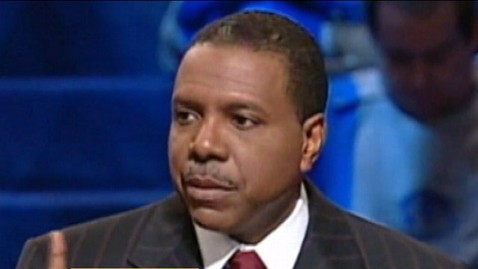 The congregation at World Changers International greeted him today with a standing ovation and boisterous cheers, and the pastor told them that there was no basis for the charges against him.
"A family conversation with our youngest daughter got emotional," Dollar said.
He denied choking or punching the girl, and said the only mark on her was an abrasion from eczema that she has had for 10 years.
"Anything said to the contrary is exaggeration and sensationalism," he said.  "I want you all to hear personally from me that all is well in the Dollar household."
According to the police report, Dollar's 15-year-old daughter said the pastor choked her, punched her and hit her with a shoe, and the girl's 19-year-old sister supported her version of the escalating argument over whether she could go to a party.
Dollar's version was that she became disrespectful and he was tried to restrain her, the report said. Only when she started to hit him did he wrestle her to the floor and spank her, the police report said.
Dollar and his wife, Taffi, have five children.

The pastor founded his ministry in 1986. It grew from a modest service in front of eight people to having some 30,000 of followers in Atlanta and dozens of satellite churches around the country.
Dollar is known for his flashy lifestyle and for preaching a gospel of prosperity to his congregants.
"Do you know why God wants you to prosper? He has a plan for your prosperity and it involves more than just having a big house and nice cars. God's design for prosperity is so you can be a blessing to others," it says on Dollar's website.