Having survived a deadly American bombing that killed their entire village, a Vietnamese family of two spent over 40 years hiding in jungles confident the war was still going on and getting close to human settlements was unsafe.
The "Tarzans" were found in 2013 – Ho Van Thanh, now 85, and his now 44-year-old son Ho Van Lang, according to reports in local media. For over four decades they had been living as hermits in a remote area of the Tay Tra district of Quang Ngai region of Vietnam.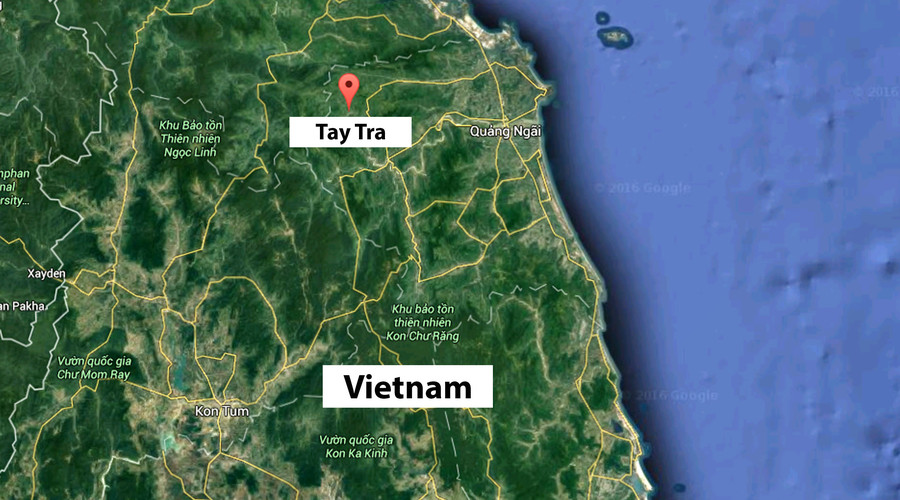 © Google maps
The father served in the North Vietnamese Army. In 1972, the US Air Force bombed their village, killing everyone including Ho Van Thanh's wife and two of his children. He decided to flee to the jungles with his surviving two-year-old son. Nobody set eyes on them again for 41 years.
Through all those years they evaded people they encountered in the jungle and lived in a small wooden hut elevated 5 meters above ground, wearing loincloths, making tools they needed and eating anything that could be gathered, picked and hunted down in the wild forest.
Finally, they were spotted by foragers who reported about the "jungle men" to the authorities. A distant relative was found, who tried to talk them into returning to civilization.
Initially, they refused to come out of the woods, believing the war was still on, but given his age, Ho Van Thanh eventually needed medical attention, which forced the father and son to leave the jungle.
For the next three years, they lived in a village, trying to adapt to civilization.
Last November, their story got the attention of Alvaro Cerezo, managing director of the Docastaway tourist company in Hong Kong, which provides tours to uninhabited parts of Asia.
Cerezo managed to talk the son, Ho Van Lang, into going back to the jungle with his crew to show how they managed to survive for so long in total isolation.
The man said he and his father didn't lead a Tarzan life per se. They grew corn and cassava, and kept their fire lit, 24 hours a day, 365 days a year.
In fact, the diet of two Mowglis was extremely varied, as they consumed practically anything that could be found in the forest. The majority of plants and fruits growing there are edible.
They ate fruit, vegetables, harvested honey and cooked a wide variety of meats, including bats, birds, frogs, lizards, monkeys, rats, snakes and fish.
"While I was with him in the jungle I saw him eat bats as though they were olives," International Business Times cited Cerezo as saying. Practically no creature in the jungle could pose any threat to them.
They also used a number of hand-made tools, collecting items they needed to produce them across the jungle, which included fragments of American bombs.
"They never ate with their hands, but had improvised chopsticks made of bamboo," Cerezo said.
It turned out they never had any major issues with health, narrowing their concerns to flu once a year and occasional stomach ache.
However, when they got back to civilization, they drank their cup in full, being not immune to the many maladies that spread among people who live crowded together.
Alvaro Cerezo discovered Ho Van Lang is still not interested in any news from the outside world or his own country. He doesn't use electricity and cultivates a piece of land he was given. He plans to get married, although previously he had never seen a woman.