Hong Koprotesters not backing down
STORY HIGHLIGHTS
Student protest group vows to occupy government buildings if HK's leader doesn't resign
Protesters hit the streets amid National Day ceremonies
Hong Kong's leader: People should be satisfied they can vote on a leader
Neither government leaders nor protest leaders have shown any sign of budging
Hong Kong (CNN) — Hong Kongers marked China's National Day in unprecedented fashion Wednesday, as pro-democracy protesters thronged the streets of the Asian financial hub for what is shaping up as a critical day in the territory's "Umbrella Revolution."
Huge crowds took to the streets throughout the annual public holidaymarking the anniversary of the founding of the People's Republic of China. Since 1997, when the sovereignty of Hong Kong was handed back to China, the holiday has been marked by a massive fireworks display, which was canceled this year because of the political unrest.
As the day wore on, more and more people joined a core of protesters who had endured heavy rain throughout the night.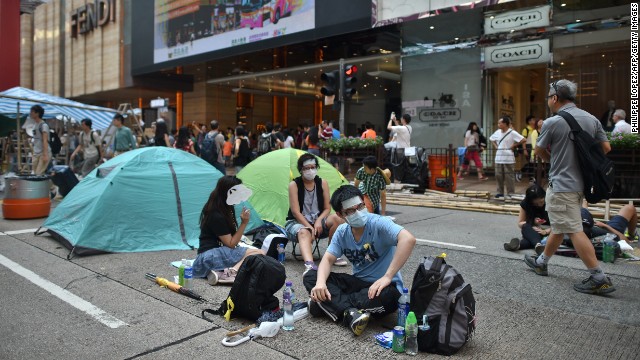 Photos: Hong Kong po
As crowds grew in downtown Hong Kong, with fresh faces joining those who had braved the storms, there appeared no indication that the protesters' determination was waning.
According to a CNN team on the ground, crowds at the main protest site in Hong Kong's financial district Wednesday afternoon appeared significantly larger than at the same time Tuesday.
At a news conference Wednesday afternoon (local time), the Hong Kong Federation of Students, one of the main protest organizing groups, said it was prepared to widen the campaign of civil disobedience if the chief executive, C.Y. Leung, did not resign.