Guy who reported Linda Ikeji to Google caught cyber squatting her name.
by Uduak Oduok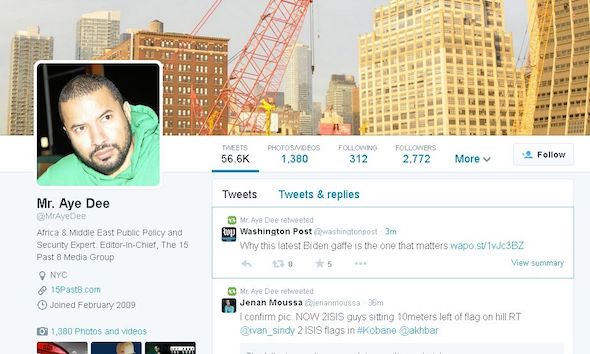 According to a twitter handle owned by @MrAyeDee, celebrity blogger Linda Ikeji was accused of copyright infringement of his works. He reported these infringing activities to Google and what resulted was a take down of his articles/works on her site and also a take down of articles/works of other persons who she also allegedly had been infringing on their works. He also claimed with the rate and way things looked, Linda Ikeji's site could be shut down within a week.
Linda Ikeji has a blog hosted on Blogger and averages an estimated $900,000.00 in income each year.  I get the fact that this guy was concerned about Ikeji's activities and got Google to do something about it. What I don't get is his very strong response and continued massive tweets talking about the same issue in an almost vendetta like style towards her. This got me curious to know who he was and what could be a motive behind all of these.
I began by looking at his twitter page and narrowed in on his website www. 15Past8.com. The description of the services he offered through his media group raised my curiosity. He says his media group owns "hundreds of websites." He also claimed some of the infringing content on Linda Ikeji came from his site. Well one of his hundreds of websites is 9jalife.com because it has the 15Past8.com media group stamped on it. I did a basic search on 9jalife.com to see who owns it. The name 'Emmanuel Efremov' came up as the registered owner of 9jalife.com. 9jalife.com is clear it is owned by 15Past8.com media group, @MrAyeDee's company.
For my article on Linda Ikeji, many have been saying they are surprised she does not own her own domain. Purely out of curiosity, I looked up Lindaikeji.com and noted it is owned by someone else, a case of cybersquatting. I also look up Linda Ikeji.net and see the same 'Emmanuel Efremov' come up. Now I am very curious. How is it that Emmanuel Efremov owner of 9jalife.com, a subsidiary of 15Past8.com, also owns LindaIkeji.net? Am I missing something?
Needless to say, I google the name 'Emmanuel Efremov' and lo and behold, there is a case by Volkswagen against an Emmanuel Efremov for cybersquatting. Looking at the description of 15Past8.com, the registered domain owner of 9jalife.com and Lindaikeji.net and the case by Volkswagen against Emmanuel Efremov, I am left feeling that the credibility of @MrAyeDee is shot and very weak at best. It also makes me wonder about any prior existing relationship between him and Linda Ikeji as to the issue of domain ownership i.e. cybersquatting. It is not uncommon for cybersquatters to ask you the legitimate owner of a trademark to pay them to own your own website.
Cybersquatting is against the law. The definition follows:
"Cybersquatting (also known as domain squatting), according to the United States federal law known as the Anti-cybersquatting Consumer Protection Act, is registering, trafficking in, or using a domain name with bad faith intent to profit from the goodwill of a trademark belonging to someone else." -Wikipedia
Why is LindaIkeji.net affiliated with Emmanuel Efremov who is affiliated/the registered owner of9jalife.com, a company owned by @Mrayedee's 15Past8.com?
If you accuse someone of copyright infringement, it is a good idea to make sure your hands are very clean and there is no connection whatsoever with a possible bad faith attempt to hijack their domain name. I am curious to see where all of these leads.
-Uduak
15Past8.com located on the left side bar under profile pic




A description of what 15Past8.com Media Group Does

9jalife.com owned by 15Past8 Media Group

Footer of picture indicating 9jalife.com is a property of 15Past8.com Media Group
Whoisdomain showing 9jalife.com is registered to an Emmanuel Efremov.

Excerpts from decision:
C. Registered and Used in Bad Faith

Paragraph 4(b) of the Policy provides that:

For the purposes of paragraph 4(a)(iii), the following circumstances, in particular but without limitation, if found by the Panel to be present, shall be evidence of the registration and use of a domain name in bad faith:

(i)         circumstances indicating that the Respondent has registered or the Respondent has acquired the domain name primarily for the purpose of selling, renting, or otherwise transferring the domain name registration to the Complainant who is the owner of the trademark or service mark or to a competitor of that Complainant, for valuable consideration in excess of the Respondent's documented out-of-pocket costs directly related to the domain name; or

(ii)        the Respondent has registered the domain name in order to prevent the owner of the trademark or service mark from reflecting the mark in a corresponding domain name, provided that the Respondent has engaged in a pattern of such conduct; or

(iii)       the Respondent has registered the domain name primarily for the purpose of disrupting the business of a competitor; or

(iv)       by using the domain name, the Respondent has intentionally attempted to attract, for commercial gain, Internet users to the Respondent's website or other on-line location, by creating a likelihood of confusion with the Complainant's mark as to the source, sponsorship, affiliation, or endorsement of the Respondent's website or location or of a product or service on the Respondent's website or location.

The instances of bad faith set out in paragraph 4(b) of the Policy are examples only, intended to illustrate types of conduct which is caught by the Policy. See Do The Hustle, LLC v Tropic Web, WIPO Case No. D2000-0624.

The Complainant has submitted evidence that the Respondent has registered at least 20 other domain names which use "my-" or "all-" or "-hq" or similar expressions in conjunction with a very well-known trademark. A number of examples were referred to above. As a result, the Complainant contends that the Respondent has engaged in a pattern of conduct of registering domain names based on very well-known trademarks to generate pay-per-click revenues. In this connection, the AdChoices advertisements shown on the print-outs of the various websites (including that for the disputed domain name before it was "parked") are not advertisements confined to the goods or services of the relevant trademark.

The Complainant also points out that, in February 2014, the Respondent offered to sell the disputed domain name to it for USD 3,200. In the email in which the Respondent made that offer, he purported to justify it as the total of acquisition costs (USD 1500 in 2007) and then hosting costs of USD 240 per annum for each of the years 2007 to 2013 and, apparently, USD 20 for 2014. No receipts or other documentation were supplied in corroboration of this claim. Further, one might think that the "hosting fees", if they may be included in this account, should be offset by any revenues generated from the website. The email finished, however, with the warning that, if the Complainant did not see its way to making this payment, "it may very well be in our best interest to sell the domain on the open market to the highest bidder and have you deal with whomever acquires ownership thereafter."

While that last warning may be perfectly legitimate where the holder of a domain name has rights or legitimate interests in it, that is not this case in the circumstances and for the reasons outlined above.

Taking these matters together, the Panel finds that the Respondent has clearly used the disputed domain name in bad faith under the Policy. Further, it is plain from the renown of the VOLKSWAGEN trademark and the number of other very well-known trademarks which the Respondent has used as the basis of his domain names that the Respondent was well aware of the trademark significance of VOLKSWAGEN when he registered or acquired the disputed domain name. Accordingly, the Panel finds that the disputed domain name was registered in bad faith.

Therefore, the Panel finds that the requirement under the third limb of the Policy is satisfied.

Decision

For the foregoing reasons, in accordance with paragraphs 4(i) of the Policy and 15 of the Rules, the Panel orders that the disputed domain name be transferred to the Complainant.

http://africamusiclaw.com/cybersquatting-wait-a-minute-is-the-man-who-accused-linda-ikeji-of-copyright-infringement-owner-of-lindaikeji-net/